The most appropriate title could have read "Happy Days Are Here Again". The Stars, Cars and Celebrities all aligned which brought joy to sellers and the buyers who made the trip to Scottsdale this year, The other auctions had 2,939 lots combined with.Barrett Jackson, They included RM, Gooding & Company, Bonhams, Russo and Steele and Silver Auctions. The Barrett Jackson folks brought the most at 1600 cars, with a little help from their friend Ron Pratte. Ron added 140 or so great cars to an already super docket (Cars and Memorabilia for sale). January also brings Journalist from around the world to represent publications they work for. I am one of the fortunate ones, who for the last couple of decades has been able to share the experience with you the CC.N readers and my clients as an Automotive Consultant. The Ron Pratte Collection included the 1950 GM Futurliner and the 1954 Pontiac Bonneville Special Motorama Concept Car, which was history repeating itself.  I witnessed the excitement the first time Barrett Jackson made history with them and again at their 44th.  I have documented my opinion about the market in the Classic Car News over the years and the amount the Barrett sale would bring. Momma would be proud with how many times I have been darn close or right on. This year My Opinion was written in an email that was sent to invited Guest of the IAAA/AAAIC (All Auto Appraisers Industry Conference) that  takes place in Scottsdale each January.  I wrote "My wager is on the pair setting new records. If they don't, the other 138 Pratte cars will". I was a little off on the 1950 GM Futurliner and right on about the Bonneville and the rest of his cars and memorabilia. One of the IAAA/AAAIC VIP Speakers Included Harley Cluxton III (Grand Touring Cars/Mirage Racing Team) he was the former owner of the Super Sake that was part of the Ron Pratte Collection. I asked attendees, most of which are IAAA appraisers to text me how much will the Super Snake sell for?  I am proud to say that the closest was Mario Monopoli at 4.8 million. Other members ranged from 3,750 million to 7.2 million. I was the furthest from the 4.7 that it hammered at.
---
                                               The Arizona Auction Crowds were thicker than ever

The Arizona auctions accumulative records shattered like plates at a Greek wedding! The number of cars, bidders and the amount paid all set new records. Barrett Jackson busted the fun-o-meter for a Car Show, Auction and the place to come away with event paraphernalia. The OEM Manufacturer displays were only missing the New American made imports. Venders were abundant making it possible to buy an array of Barrett Jackson logo-ed items. Ford Motor Company, GM and Dodge fun to wear goodies were also available.  Ladies are always encouraged to buy everything else while their hubby is at the auction block (as a tradeoff). Big Boy Toys also included Boats, Planes, Motor Homes, Garage equipment, wall decor, Patio Furniture and on-and-on. The Barrett Jackson endorsed or branded products included Apparel, Collector Car Insurance, Blackford Financial products, Planet Color Paint and Signature Car Care Products.
---
You could buy Car Wax or even a Plane at the Barrett Jackson Event
---
The Grand total of $132 million in sales was an all-time record for Barrett Jackson as verified in our documented Classic Car News— Barrett Jackson timeline. By the way, I predicted a $140 million figuring about $39 million for Pratt's cars alone. I will not get shoes thrown at me for that one but I might have to duck when I provide my opinion of the true market condition later on in this article.
---
 The Super Snake Sold for under 5 million this time Vs 5 million before.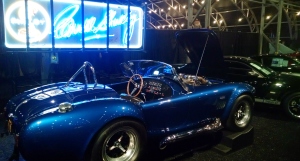 Barrett Jackson continues to defy gravity. Judging by the crowds that gathered to participate in the sale of the Ron Pratte collection. The first few days are traditionally reserved for more affordable cars but the Pratte Tuesday sale changed that. The Barrett Jackson Charity Gala was more exclusive to accommodate the record setting 5000 buyers. I have gloated about the "My Opinions" articles that are documented in previous issues of the Classic Car News. Sometimes they are scientific or occasionally an educated guess. On another Note: I have been holding back on you, way back—-with my one-on-one interview with Craig Jackson where he said; ——————to be revealed in a separate article in an upcoming Classic Car News -so watch for it.
 Ron Pratte's cars lined up to cross the block on Prime time Saturday.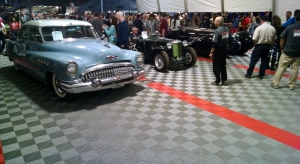 ---
---
---
---
---
---
---
---
---
---
---
---
---
---
---
---
---
---
---
---
---
---
---
---
---
---
---
---
---
---
---
---
---
---
---
---
---
---
---
---
---
---
---
---
---
---
---
---
---
---
---
---
---
---
---
---
---
---
---
---
---
---
---
---
---
---
---
---
Five other AZ auctions didn't disappoint either with sales in the 300 million dollar range for 2,939 lots. Barrett Jackson posted $131.9 million in sales with 1600 cars, Next RM auction posted $63.7 million with 84 cars, Gooding & Company posted $51.5 million with 89 cars, Bonhams posted $21.9 million with 54 cars, Russo and Steele posted $17.2 million with 750 cars and the Silver auction has not posted sales yet. Figures not audited and taken from various sources.
---
Buy the Futurliner or you could have bought the model for $6,500.00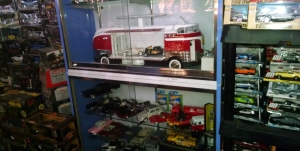 ---
The big guns bring plenty of ammo to the Barrett Jackson Scottsdale auction and Craig Jackson provides a venue for philanthropic types to purchase the vehicles auctioned for Charity.  Ron Pratte donated the Futurliner to benefit the Armed Forces Foundation. The total proceeds of $4,650,000.00 including additional donations all went to the worthy cause.  Others  crossed the Barrett Jackson Scottsdale auction block to raise $8,735,000.00 to benefit local and national charities. They included a 2015 Jeep Wrangler Custom SUV donated by SEMA to benefit Child Help and Victory Junction – $85,000, a 2015 BMW M5 donated by BMW to benefit BMW Car Club of America Foundation and Tire Rack Street Survival Program – $800,000, a 2016 Cadillac CTS-V donated by GM to benefit College for Creative Studies – $170,000, a 1979 Oldsmobile Cutlass Hurst, donated by Joe Riley for Cancer Research Fund at TGen in memory of Russ and Brian Jackson – $140,00, for a 1939 Cadillac LaSalle C-Hawk Custom Roadster, donated by Bubba Watson for Birdies for the Brave – $410,000, a 2015 Chevrolet Corvette Z06 Convertible "1st Retail", donated by GM for United Way – $800,000, a 1999 Chevrolet Monte Carlo NASCAR Busch Series Stock Car, donated by Jeff Gordon and Ray Evernham for Jeff Gordon Children's Foundation – $500,000, a Ford Shelby GT350R VIN #001 Coupe, donated by Ford for Juvenile Diabetes Research Foundation – $1,000,000 and a 2014 Victory Cross Country 8-Ball Motorcycle, donated anonymously to benefit Ride 2 Recovery – $180,000.
The 44th Barrett Jackson Auction 1600 car docket was a record as were the 5000 registered bidders who participated. Who were there for a chance to purchase the wide range of American muscle, European classics, exotic sports cars and one-of-a-kind customs. The top 10 cars sold at the Barrett Jackson Scottsdale auction included: a 1966 Shelby Cobra 427 Super Snake – $5.1 million, a 1950 GM Futurliner Parade of Progress Tour Bus– $4 million, a 1954 Pontiac Bonneville Special Motorama Concept Car – $3.3 million, a 1949 Talbot-Lago T-26 Grand Sport Franay – $1.65 million, a 1965 Shelby Cobra 427 Roadster– $1.595 million, a 1955 Mercedes-Benz 300SL Gullwing – $1.1 million, a 1937 Mercedes-Benz 320B Cabriolet – $1.045 million, a 1936 Delahaye "Whatthehaye" Street-Rod– $671,000, 1991 Ferrari F40 – $643,500 and a 1953 Mercedes-Benz 300S Cabriolet –$643,500.
The 2015 Barrett-Jackson Scottsdale auction was a star-studded extravaganza (Stars Shine over Scottsdale). They included some of the brightest celebrities on the movie screen and TV, as well as from the sports industry and corporate world. Some of the biggest stars included four-time NASCAR Sprint Cup Series champion Jeff Gordon, two-time Masters champion Bubba Watson and Hollywood stars Sharon Stone and Tim Allen. Other popular luminaries included: CeeLo Green, pop music artist, Rodney Atkins, country music artist, Thompson Square, country music duo, Alice Cooper, rock music artist, Reggie Jackson, MLB Hall of Famer, Michael Anthony, rock music artist, Tichard and Steven Seagal Hollywood star. Car celebrities Wayne Carini "Chasing Classic Cars". Ray Evernham "AmeriCarna", Richard Rawlings "Fast and Loud" and Keith Martin & Mark Hyman of "What's My Car Worth?" The List is endless when you add the hosts that took part in the Velocity programing and I am sure there were others not listed. Barrett-Jackson's new relationship with Velocity and Discovery Channel premiered with a spike in ratings for the channel during auction coverage in Scottsdale. Velocity and Discovery Channel will broadcast more than 100 hours of coverage that will include auctions in West Palm Beach, Fla., as well as Reno and Las Vegas, NV in 2015.
---
Barrett Jackson -Jimmy Shine Pick Up Brought $236,500
Barrett Jackson – 57 Fuel  Injected Bel Air  38,500 (Cheap $)\
---
Russo and Steele didn't have a great overall sell-through but managed to have cars that sold for more than the other auctions. The top sellers as provided by Russo and Steele. A "Mercedes Benz 1957 300SL Roadster" was the # 1 at Russo and Steele #2565 $1,430,000.00, # 2 was at Bonhams #139 1958 300SL Roadster $1,237,500.00, # 3 was at RM Auctions #111 1957 300SL Roadster $1,210,000.00 and the # 4 was at Bonhams #157 1957 300SL Roadster $902,000.00. The Top Porsche 911 Sales was # 1 Russo and Steele #2275 1974 Porsche 911 2.7 RS $305,500.00, # 2 was at RM Auctions #163 1965 Porsche 911 Coupe $297,000.00, # 3 was at RM Auctions # 220 1969 Porsche 911 S Soft Window Targa $286,000.00, # 4 was at Gooding #20 1967 Porsche 911 2.0 S $253,000.00, # 5 was at Gooding #157 1965 Porsche 911 $253,000.00, #6 was at Gooding, #118 1996 Porsche 911/993 Turbo $220,000.00, # 7 was at Bonhams #145 1989 Porsche 911 Speedster $214,500.00, # 8 was at Gooding #124 1989 Porsche 911 Carrera Speedster $209,000.00, # 9 was at RM Auctions #135 1989 Porsche 911 Speedster $198,000.00 and # 10 was at Gooding #112 1973 Porsche 911 2.4 S $187,000.00. The Top "Jaguar XK120 Roadster" sales were # 1 at Russo and Steele #2113 1953 Jaguar XK120 Roadster $143,000.00, # 2 was at Gooding #162 1954 Jaguar XK120 Roadster $132,000.00 and # 3 was at Barrett Jackson #1009 1951 Jaguar XK120 Roadster $74,800.00. These sales give credence to the Russo and Steele as a viable Auction house.
---
---
---
"My Opinion" By AV Monopoli January 2015
The market is selective, not every car brings record money. The Corvette buyers are even more selective. Foreign cars are in favor, Porsche's are in the money and still on the move; could it be possible that you can find people to work on them. Road Race and Historic Race Cars are on fire. Could the reasoning be the possibility of participating in Vintage Racing? NASCAR historic cars have a select group of buyers "The NASCAR Click Affect". Special Muscle Cars are still warm for a select group. Modified cars can be from lukewarm to hot at select auctions (The Barrett Jackson). The Market Is Select, No Dumb luck, buy what you like and like what you buy because you may keep it. "The market will continue on a bumpy incline for 2015".
My Opinion from 2004
The leading barometer for collector car values is the Barrett Jackson Auction in Scottsdale. It is always spectacular, but now it has gone over-the-top. I predicted, that "speculators will subside with time but the market will still be strong in 2005," The bidder on the 3 million dollar Olds brought it to Colorado to his new museum. The H Hughes Buick was sold at BJ West Palm Beach. I bet that the masses will want to see them first hand in their new homes. I also stick with the fact that a stronger Yen, Euro and Drachma will bring the next round of record highs for Collector Cars.
"My Opinion" in the last CC.N stated that the Collector Car Markets would do more of what you saw in 2004, lofty sales, higher records and multi-million dollar Collector Cars.
Momma be proud, your boy Tony Monopoli has insight into the Collector Car market and didn't turn out to be a Cowboy.
The leading barometer for collector car values is the Barrett Jackson Auction in Scottsdale. It is always spectacular, but now it has gone over-the-top. I predicted, that "speculators will subside with time but the market will still be strong in 2005,"and I still believe this. The bidder on the 3 million dollar Olds brought it Colorado to his new museum along with the H Hughes Buick that was sold at BJ West Palm Beach. I bet that the masses will want to see them first hand in their new Colorado home. I also stick with the fact that a stronger Yen, Euro and Drachma will bring the next round of record highs for Collector Cars.
---
---
---
Carroll Shelby's first Race Car an MG sold for $539,000.00 2015 and it was  bought for $313,500 at the 2008 Barrett Jackson Las Vegas auction.

---
Barrett Jackson sold the LS6 Corvette for $203,500.00 (Fair $)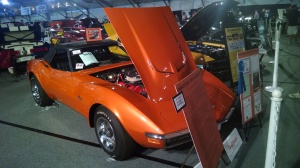 "Bargain Basement is not thought of when you think of The Arizona Auctions. However, the cars that cross the blocks may be portrayed that way someday."
@ AV Monopoli
---
---
---