The Classic Car News is providing information about the Barrett Jackson Auction in Connecticut that takes place June 23rd, 24th and the 25th of 2016. http://barrett-jackson.com/Events/Event/Schedule/Northeast-2016/c10195a7-7bfd-432a-b008-e4d303b1709a
It will be the first time at the Mohegan Sun Casino located at 1 Mohegan Sun Boulevard
Uncasville, CT 06382. Barrett Jackson is the Worlds' largest Collector Car Auction event in the world. "In Barrett Jackson's own words."
Come, one and all, rich and poor to the Worlds' Greatest Collector Car Event and Auction that offers something for everyone. I have said it before; Take your car, motor home, plane, helicopter or mass transit. If you can't come you can snuggle up and watch it on TV,  see the schedules
There is so much more to see in person that it's worth the cost to come. To start make sure you keep your adult beverages to a minimum while bidding and walking past those blackjack tables! Always consult a professional, so you make the right choice while bidding. There are 6 cars to be auctioned for charity, including a 2016 Shelby GT-H Prototype that is a beautiful looking beast. Also a car that we are very familiar with is a 1969 Chevrolet Camaro convertible custom and 100 percent of the hammer price will go will benefit Receptions for Research: The Greg Olsen Foundation, supporting the HEARTest Yard Program. Link listed below http://barrett-jackson.com/Media/Home/Reader/shelby-gt-h-prototype-among-six-cars-to-be-auctioned-for-charity-at-barrett-jacksons-northeast-auction/
Barrett Jackson is constantly improving their Events', evidenced in its results of the previous Arizona Barrett Jackson Auction last January.  We have attended since the late 1990's and see constant improvements that make the Barrett Jackson Auction a great success. The Barrett Jackson's historic auction weekend will attract top collector car aficionados and collectors with some of the world's most valuable collectible and coveted vehicles that are available for them to buy or sell.
The Barrett Jackson Showcase Pavilion and Auction Vehicles are a group of exceptional vehicles. Seasoned collectors can also buy vehicles and memorabilia above that, to add to their collections. On the lower side, Barrett Jackson's philosophy is to provide newcomers to the hobby with more attainable affordable vehicles. The plan is much like a SEMA-ARMO plan to bring the Kid To-A-Car-Show. One day that kid might just turn out to be the CEO of Facebook and in Barrett Jackson's case a best customer.
Event Map http://www.barrett-jackson.com/PDF/NE16-Vendor-SiteMap.pdf
The Mohegan Sun facility will give attendees a feel of the Scottsdale AZ auction. If size matters The Scottsdale auction is billed as the Greatest and we think it is the largest all-inclusive Car Lovers Event "Life Style".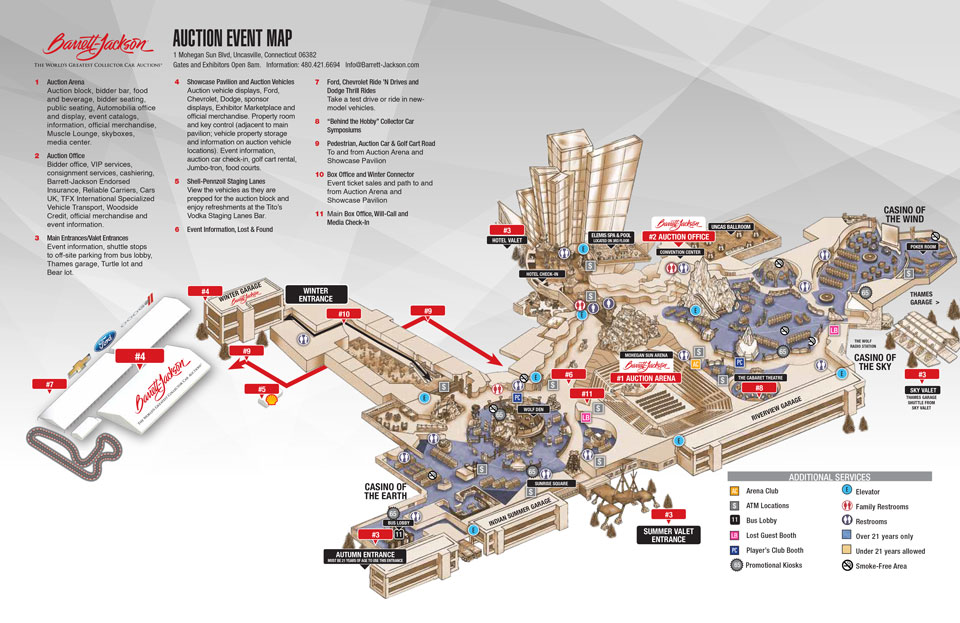 Download a PDF to take with you
Barrett Jackson Site Map NE16-Vendor-SiteMap
Lodging Options
http://www.barrett-jackson.com/Events/Event/Travel/Northeast-2016/c10195a7-7bfd-432a-b008-e4d303b1709a
Time to Watch Schedules
*All times are EDT and are subject to change
Thursday, June 23, 2016
4:00 PM – 8:00 PM Eastern
Velocity
Barrett-Jackson Live
Friday, June 24, 2016
2:00 PM – 8:00 PM ET
Velocity
Barrett-Jackson Live
Saturday, June 25, 2016
12:00 PM – 3:00 PM ET
Discovery
Barrett-Jackson Liv
3:00 PM – 8:00 PM ET